ATI WILLIAMS OF HGTV'S DC FLIPPERS
Ati Williams is the host of HGTV show DC Flippers, and the Principal of Honeycomb Residential. She is a renovation ninja, general contractor and design creative. Ati became interested in renovation and real estate when she purchased her first home. After a year of making minor renovations, she resold her home,and garnered $31,000 in profits. She has since worked on dozens of renovations from cosmetic builds to complete gut rehabs. What Ati loves most about renovations is the ability to breathe new life into a home's old soul through tasteful and custom
update.
Ati has also been featured in the New York Times, MSNBC, CNN, Good Morning Washington, the Washington Post, the Washingtonian and several other publications and local TV shows.

Ati will be on the Fresh Ideas Stage Friday and Saturday. Check back for presentation times.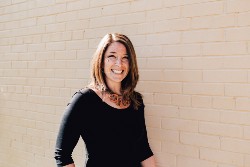 Jess Trott of Organize with Jess, LLC
Jess Trott is the owner, lead productivity and organizing consultant that is the driving force and inspirational energy behind Organize with Jess, LLC. She is dynamic, energetic, intelligent and seeks to elicit action and empower assertiveness. Jess has a passion for form, function, and organizing since she can remember and has been sharing these skills professionally since 2011.
Appearing on the Fresh Ideas Stage Saturday at 11am and Sunday at 12pm
Visit Organize with Jess at the show in booth #1521.
Lora Songster of 99.5 WMAG
Meet Lora and the team from 99.5 WMAG during the entire weekend!
Lora came to the triad as a college student, and began her radio career on 99.5 WMAG. She has literally grown up on our airwaves and I loves her job! You can listen live weekdays from 5:30am to 10am!
Visit this site often for updates to our 2020 Fresh Ideas Stage schedule.